Back in my youth I used to love sitting by a pond or a river idly passing the time in pursuit of a couple of tench or roach. My biggest fish was a 4lb carp. Nothing huge but I was very proud of it at the time. I took the kids fishing when they were young a few times and then, as they lost interest, so did I.
However we just happened to have set up home in the middle of one of the best known angling regions in Europe, namely the Ebro valley. The area is famous for the enormous Wels catfish as well as some very impressive carp. So when I was offered the chance for a day's fishing with Ebroasis I couldn't turn it down.
Jeroen from Ebroasis supplies all the gear and instruction so it's a day suitable for both experienced anglers and clueless people like myself. The fishing day is also great for families or a group of friends. I set off for the meeting place a few kms away. Jeroen was ready and showed me around then went through the equipment and the fishing process. I was a bit nervous as well as excited. These things can grow to well over 2 metres and knocking on for 200lb. We had a couple of rods set up, baited up and ready. The rods had little bells on and Jeroen explained how and when to strike and how to play the fish. We sat down and waited. It was quite lovely watching the mighty Ebro flow gently past and just relaxing out in the middle of nowhere. There was plenty of wildlife to look at, the sun was out and it was beautifully peaceful. If I we didn't catch anything I still would have gone home happy.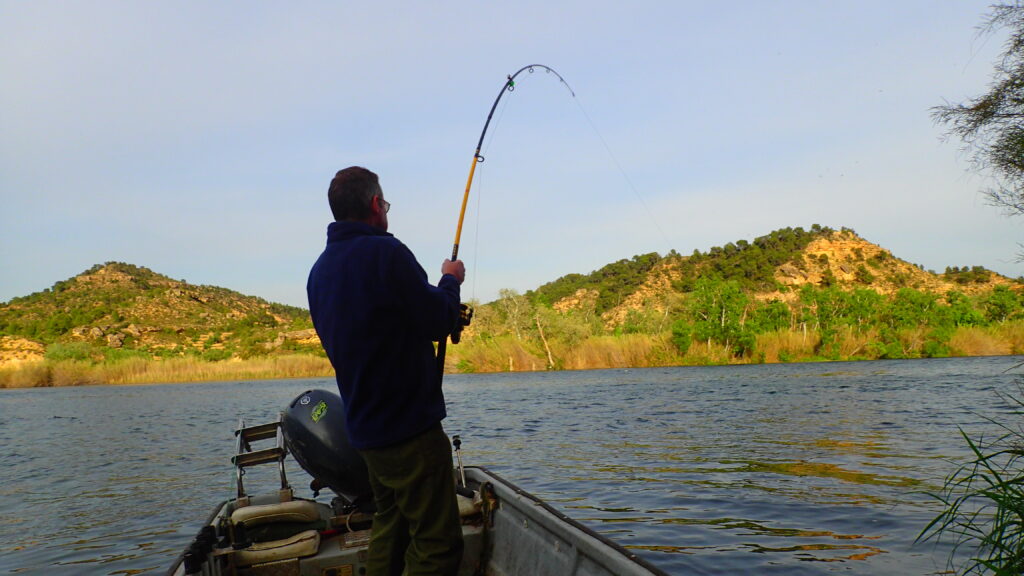 After about half an hour one of the little bells started jingling. Then, when the rod was really bending, it was time to strike. I was in, a fish was hooked and all I had to do was bring it in! Well a large catfish is slightly different to a 30oz roach and I was surprised how strong this river beast was. The plan is to let it run a bit, reel in fast and repeat. Slowly, slowly I managed to ease it towards me. When it was just beneath me, Jeroen reached in and grabbed it by the mouth and lifted it clear. We put it on a wet mat and then weighed it. 45lb, a giant to me, a proper monster from the murky depths. The catfish was rather beautiful and majestic just lying there. I was keen to have a quick photo and then get it back in the water as soon as possible. Within a couple of minutes it had slithered back into the river and gone off in search of lunch.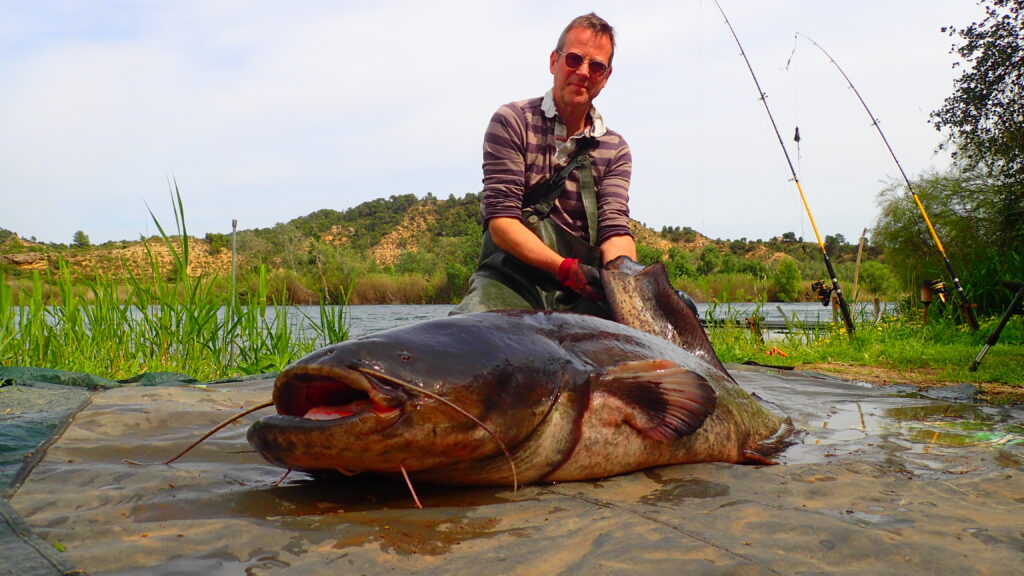 I was buzzing after that and would have been quite happy to have just sat there for the rest of the afternoon but Jeroen is always after the next one. That could be the 'big one'. To be honest, I wasn't actually that keen on a really big one as this first fish was pretty impressive to me. But we carried on and, by the end of the day, I had caught four catfish ranging from about 45lb to just under 80lb.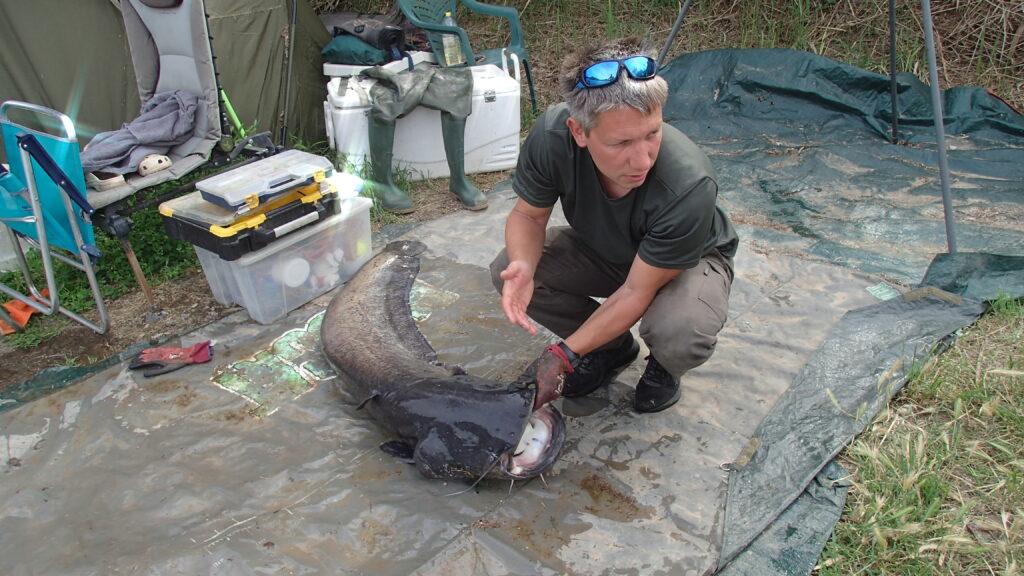 It was an excellent day, challenging but very rewarding. Jeroen was a brilliant and friendly instructor. Whether you are a complete novice or have been fishing for years, I can guarantee you will enjoy this day out. We can arrange it all for you and make sure you know where you are going so you can have a stress free, fun day. Just think of those photos you may be able to post to your pals!